The commercial team export will answer all the requests for quotation
The export service is a team of 2 people in your listening to answer as well your requests for quotation for all the products and marks distributed by Copadex.
The export service of Copadex is located in France, in the office of the company at Châlette-Sur-Loing in Loiret (Approximately 62 miles at south of Paris).
New tires for the export:
Copadex provides a stock about 350.000 tires across all categories in his site in Loiret.



Copadex is : a multi-products offer:
> car - truck - SUV
> heavy truck
> agricultural
> heavy duty and civil engineering
> handling
> ATV
A multi-marks offer :

The commercial team export provides a wide variety of multi-products and multi-marks tires.
Copadex markets products which answer strict security, quality and environmental criteria.
Copadex's offer is based on four major pillars.
Availability : Great stock of tires
A permanent available stock about 350.000 tires, overall product.
A very short lead time.
A multi-marks offer allowing the substitution of a product by another one.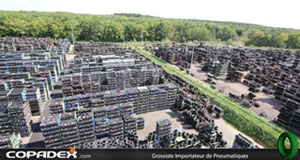 Quality of tires for the export:
All our marks are the property of the main world manufacturers, who make them :

and

by

, 4th worldwide manufacturer

, by

, 1st worldwide manufacturer

, by SUMITOMO, 6th worldwide manufacturer

by
2nd worldwide manufacturer
Competitive prices for your quotations:
Due to our historic partnerships with our providers, we offer you products to the best value for money.
Expedition of tires in the export:
Our team puts all its know-how in the service of the preparation of your order, by offering you the possibility of mixing all our categories, marks, and size of tires.
Tires are loaded in containers so as to optimize the available space, all this allowing you at best to minimize your cost of transport.
We adapt the transport according to your need:
- Aerial
- Maritime groupage in small amounts
- Container full of 20 or 40 high cube.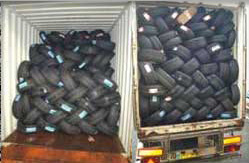 In partnership with multiple forwarders, we are able to offer you every types of services of transport. Our quotation can become established :
- EXW Châlette-sur-Loing (from our warehouse)
- FOB Rouen, Le Havre, Anvers, Marseille...
- CAF or CIF all destinations
The delay of putting to FOB are extremely short, whatever is the port of load.